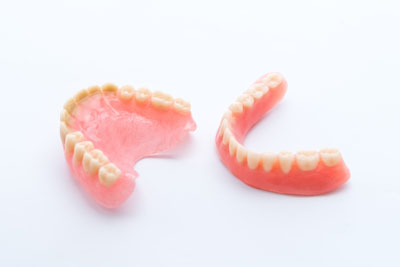 We can provide you with implant-supported dentistry that improves your quality of life. We work with a lot of patients that received dentures after tooth loss because they were already aware of this solution and understood it to be durable and dependable. This is certainly true of dentures. They can last for years and provide you with the ability to eat, smile, and speak clearly.
However, they are a removable prosthetic that is very often secured in place using either a combination of wires and clasps or by surrounding your gums. Both ways can feel less than secure from time to time because of either change that your jaw goes through or an activity that you are engaged in. Some people find this to be terribly inconvenient, and they become frustrated by the need to make changes to what they eat and how they eat it. If you are in this category, we can help to restore your teeth in a more secure way so that your quality of life can also be restored.
Is implant supported dentistry right for you?
We encourage patients to visit our office for an examination. We will physically examine the patient and take X-rays to determine if there are any oral health issues that we need to address. These health issues could include an infection in any remaining teeth or gum diseases. If any of these issues are present, we will need to correct them before using implants. Since all implants are surgically placed under the gums, we need to ensure that the patient is in good health so that the body can recover quickly.
Once we are confident that implant-supported dentistry is a good option for the patient, we will begin the procedure. We will use anesthesia to ensure the patient does not feel anything while we insert the implants into the gums. There are two main types of implants: traditional and mini. The type we suggest will depend on the patient's oral health and ultimate goals. Thus, the procedural processes will vary for each patient.
Traditional implants, for example, have the longest recovery time, and they are placed in each location where you have lost a tooth. Mini implants, on the other hand, can support dentures by securing them in place. This procedure is faster and one that we can complete in one visit to our dental office. Both types of implants are secure and durable, but since mini implants are smaller, it is believed that they may not last as long as traditional ones. In reality, this is something that we can discuss in further detail at our office.
We are confident that, regardless of which solution you choose, your implants will improve your life by allowing you to eat like you used to and engage in all of your favorite activities without being concerned that your teeth may come loose or fall out.
To learn more about implant-supported dentistry, callPerfect Smiles Dental Studio at (661) 551-1104 and schedule an appointment today in our Santa Clarita dental office.
---
Related Posts
September 12, 2018
Getting new dentures can cause some discomfort when first using them. If it feels awkward at first, then learning how to adapt to dentures can be necessary. The great thing is that you can still …
---